Hiring Now: Head of Product Management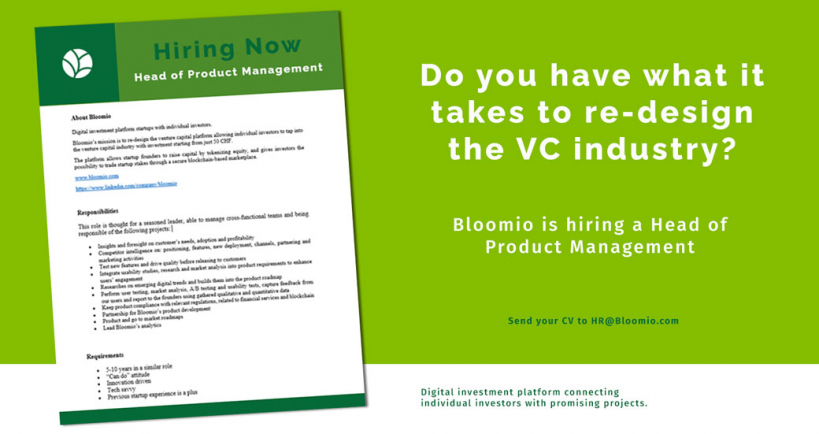 Zug, 11/01/2019 – Bloomio is looking for an experienced product leader to drive features development across all stages of the product/solution life cycle. Able to bridge between business and technical realities, the resource will design and lead the implementation of best in class services that will engage users and will generate the "wow" effect.
About Bloomio
Digital investment platform startups with individual investors.
Bloomio's mission is to re-design the venture capital platform allowing individual investors to tap into the venture capital industry with investment starting from just 50 CHF.
The platform allows startup founders to raise capital by tokenizing equity, and gives investors the possibility to trade startup stakes through a secure blockchain-based marketplace.
https://www.linkedin.com/company/bloomio
Responsibilities
This role is thought for a seasoned leader, able to manage cross-functional teams and being responsible of the following projects:
Insights and foresight on customer's needs, adoption and profitability
Competitor intelligence on: positioning, features, new deployment, channels, partnering and marketing activities
Test new features and drive quality before releasing to customers
Integrate usability studies, research and market analysis into product requirements to enhance users' engagement
Researches on emerging digital trends and builds them into the product roadmap
Perform user testing, market analysis, A/B testing and usability tests, capture feedback from our users and report to the founders using gathered qualitative and quantitative data
Keep product compliance with relevant regulations, related to financial services and blockchain
Partnership for Bloomio's product development
Product and go to market roadmaps
Lead Bloomio's analytics
Requirements
5-10 years in a similar role
"Can do" attitude
Innovation driven
Tech savvy
Previous startup experience is a plus
if you would like to submit your candidature for the position, send your CV to hr@bloomio.com